BRAND NEW IN CASE SOLAR POWERED BATTERY CHARGER
Regular price $28.49 Sale
BRAND NEW IN CASE SOLAR POWERED BATTERY CHARGER DESIGN GREAT CARS BIKES ATV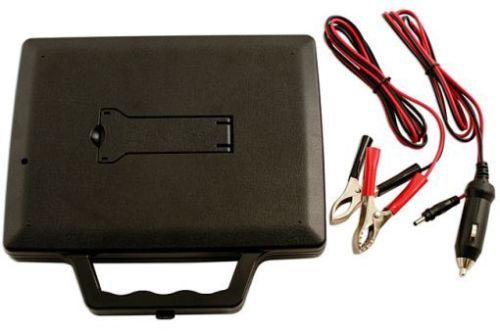 Item Description
A solar powered battery charged for 30ah batteries and above gives off-site charging for numerous vehicles including cars, motorcycles, boats, ATVs and caravans. Suitable for batteries 30ah and above.
Suitable for use on cars | motorcycle | boats | ATVs | caravans etc.

No mains wiring required - Vehicles 12v output and crocodile clip adaptor supplied.

Built-in blocking diode prevents battery discharge at night.

Power output 4 watt in perfect conditions.

Folding ABS case.
************************************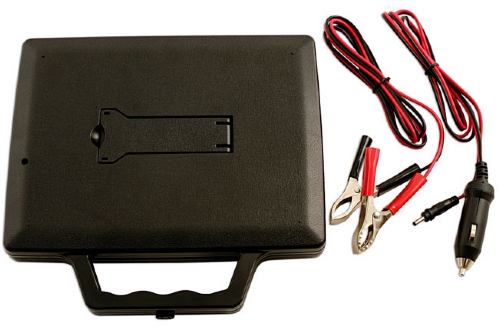 If you are dis-satisfied with the service or item then please ring us ON


01623 555512 *

 Before Leaving FEEDBACK

 
We ALWAYS leave Positive Feedback as soon as you pay for your item.
DELIVERY PROCESS
COURIER & PARCEL DAMAGES

MUST BE REPORTED TO OUR OFFICE WITHIN 24 HOURS

OF DELIVERY OR NO CLAIM CAN OR WILL BE PROCESSED WITH THE RELEVANT COURIER SERVICES
 Payment :
1. Credit/Debit Card Payment by phone:
Tel: 01623 555512 8.00am to 5.30pm Monday to Friday, Saturday 8.00am to 12.00pm or Fax: 01623 558407(24hours)

2. PayPal


3. Bank transfer
including: BACS, Direct transfer, Direct deposit, Electronic fund transfer, Internet bank transfer
(Our bank details will ONLY be forwarded on request by email).


Powered by eBay Turbo Lister
About Us
The idea for Tool Academy Ltd was conceived by the retirement of 92 year old Ken Seaman in 2007. I have known Ken since 1965 when I was first apprenticed at Cotgrave Service Station. We arranged to visit him one Sunday morning at his home, bought the stock, hello the "The Tool Academy." (01623 555512) 

With 50yrs experience of repairing vehicles we feel well qualified to trade within the automotive sector as a supplier of tools & equipment.

Most suppliers of automotive equipment & tools are not dedicated to just selling tools, it is usually seen as a small section of the business.

This is where our business has the advantage over our competitors, we carry a large stock for immediate supply or the promise that non stock items can be dispatched within 48hrs.

With having our own up to date workshops we have a wealth of experience & skill to advise on any questions we are asked , from technical data to how the items works .If we cannot answer the query we have the contacts of 34yrs experience in the business to find out the correct answers for you.

All our products carry a manufacturers warranty (Terms & conditions may apply) 
Payment Of Orders
We accept Paypal , Debit Cards , Credit Cards , Cash On Collection, BACS 

The buyer will need to contact us during checkout to inform us how payment will be made if not by Paypal  
For example, by phoning to pay by card etc....  You can add these instructions on to your checkout if preferred, in the Additional check out instructions section.

Buyers can pay you with a credit or debit card using PayPal. They don't necessarily need to create a PayPal account - they can pay as a PayPal guest user. PayPal just processes the card payment and puts the money into our PayPal account.
Shipping
Dispatch & Delivery of goods to you
We will dispatch the ordered goods to you within the stated time as listed on the specific item you have purchased, This will be to the address you give us for delivery at the time you make your order. 
Delivery will be made as soon as possible after your order is accepted, and within 5 working days of the dispatch date ( UK) and in any event within 30 days of your order. Saturdays & Sundays being recognized as Non Working days
You will become the owner of the goods you have ordered when they have been delivered to you. 
Once goods have been delivered to you they will be held at your own risk and we will not be liable for their loss or destruction.

We shall have no liability to you for any failure to deliver goods you have ordered or any delay in doing so or for any damage or defect to goods delivered that is caused by any event or circumstance beyond our reasonable control including, without limitation, strikes, lock-outs and other industrial disputes, breakdown of systems or network access, flood, fire, explosion or accident
Terms & Conditions
erms and conditions for ?The Tool Academy Ltd?

 

 

1.           The contract between us

1.1         We must receive payment of the whole of the price for the goods that you order before your order can be accepted. Once payment has been received by us we will confirm that your order has been accepted by sending an email to you at the email address you provide in your order form. Our acceptance of your order brings into existence a legally binding contract between us.

 

2.           Price

2.1         The prices payable for goods that you order are as set out in our website. No express or implied warranties concerning the goods are given beyond those by the  original manufacturer of the goods.

You will be required to pay extra for delivery and it might not be possible for us to deliver to some locations. Our delivery charges are set out in our website.

 

3.           Right for you to cancel your contract

3.1         You may cancel your contract with us for the goods you order at any time up to the end of the se-venth working day from the date you receive the ordered goods. You do not need to give us any reason for cancelling your contract. 

3.2         To cancel your contract you must notify us in writing.

3.3         If you have received the goods before you cancel your contract then you must send the goods back to our contact address at your own cost and risk. If you cancel your contract but we have already processed the goods for delivery you must not unpack the goods when they are received by you and you must send the goods back to us at our contact address at your own cost and risk as soon as possible.

3.4         Once you have notified us that you are canceling your contract, any sum debited to us from your credit card will be re-credited to your account as soon as possible and in any event within 30 days of your order PROVIDED THAT the goods in question are returned by you and received by us in the condition they were in when delivered to you. If you do not return the goods delivered to you or do not pay the costs of delivery, we shall be entitled to deduct the direct costs of recovering the goods from the amount to be re-credited to you.

 

4.           Cancellation by us

4.1         We reserve the right to cancel the contract between us if:

 4.1.1    we have insufficient stock to deliver the goods you have ordered;

 4.1.2    we do not deliver to your area; or

 4.1.3    one or more of the goods you ordered was listed at an incorrect price due to a typographical error or an error in the pricing information received by us from our suppliers.

4.2         If we do cancel your contract we will notify you by e-mail and will re-credit to your account any sum deducted by us from your credit card as soon as possible but in any event within 30 days of your order. We will not be obliged to offer any additional compensation for disappointment suffered.

 

5.           Dispatch & Delivery of goods to you

5.1         We will dispatch the ordered goods within 48hrs by you to the address you give us for delivery at the time you make your order. 

5.2         Delivery will be made as soon as possible after your order is accepted, and usually within 5 working days of the dispatch date and in any event within 30 days of your order. Saturdays & Sundays being recognized as Non Working days

5.3         You will become the owner of the goods you have ordered when they have been delivered to you. Once goods have been delivered to you they will be held at your own risk and we will not be liable for their loss or destruction.

 

6.           Liability

6.1         If the goods we deliver are not what you ordered or are damaged or defective or the delivery is of an incorrect quantity, we shall have no liability to you unless you notify us in writing at our contact address of the problem within 5 working days of the delivery of the goods in question.

6.2         If you do not receive goods ordered by you within 10 days of the date on which you ordered them, we shall have no liability to you unless you notify us in writing at our contact address of the problem within 15 days of the date on which you ordered the goods.

6.3         If you notify a problem to us under this condition, our only obligation will be, at your option:

 6.3.1    to make good any shortage or non-delivery;

 6.3.2    to replace or repair any goods that are damaged or defective; or

 6.3.3    to refund to you the amount paid by you for the goods in question in whatever way we choose.

6.4         Save as precluded by law, we will not be liable to you for any indirect or consequential loss, damage or expenses (including loss of profits, business or goodwill) howsoever arising out of any problem you notify to us under this condition and we shall have no liability to pay any money to you by way of compensation other than to refund to you the amount paid by you for the goods in question under clause 6.2(c) above.

6.5         You must observe and comply with all applicable regulations and legislation, including obtaining all necessary customs, import or other permits to purchase goods from our site. The importation or exportation of certain of our goods to you may be prohibited by certain national laws. We make no representation and accept no liability in respect of the export or import of the goods you purchase.

6.7         Notwithstanding the foregoing, nothing in these terms and conditions is intended to limit any rights you might have as a consumer under applicable local law or other statutory rights that may not be excluded nor in any way to exclude or limit our liability to you for any death or personal injury resulting from our negligence

 

7.           Notices

7.1         Unless otherwise expressly stated in these terms and conditions, all notices from you to us must be in writing and sent to our contact address at YOUR ADDRESS PLEASE  and all notices from us to you will be displayed on our website from to time.

 

8.           Events beyond our control

8.1         We shall have no liability to you for any failure to deliver goods you have ordered or any delay in doing so or for any damage or defect to goods delivered that is caused by any event or circumstance beyond our reasonable control including, without limitation, strikes, lock-outs and other industrial disputes, breakdown of systems or network access, flood, fire, explosion or accident.

 

9.           Invalidity

9.1         If any part of these terms and conditions is unenforceable (including any provision in which we ex-clude our liability to you) the enforceability of any other part of these conditions will not be affected.

 

10.         Privacy

10.1      You acknowledge and agree to be bound by the terms of our privacy policy.

 

11.         Third party rights

11.1      Except for our affiliates, directors, employees or representatives, a person who is not a party to this agreement has no right under the UK Contracts (Rights of Third Parties) Act 1999 to enforce any term of this agreement but this does not affect any right or remedy of a third party that exists or is available apart from that Act.

 

12.         Governing law

12.1      The contract between us shall be governed by and interpreted in accordance with English law and the English courts shall have jurisdiction to resolve any disputes between us.

 

13.         Entire agreement

13.1      These terms and conditions, together with our current website prices, delivery details, contact details and privacy policy, set out the whole of our agreement relating to the supply of the goods to you by us. Nothing said by any sales person on our behalf should be understood as a variation of these terms and conditions or as an authorised representation about the nature or quality of any goods offered for sale by us. Save for fraud or fraudulent misrepresentation, we shall have no liability for any such representation being untrue or misleading.
Returns
Procedure to request an item return:
1. Go to My eBay. You may be asked to sign in.
2. Click Won.
3. Next to your listing, select Return this item from the pull-down menu.
4. Select "I want to return an item" and click Continue.
5. The "Return an item" form appears.
6. Review the next page and click Request return. 
7. Then you have to wait for seller to accept your return request.
8. After the seller has accepted your request, you can prepare postage right away and click Continue.
9. Post the item to the seller.
More Items!
Frooition www.frooition.com | No-js Template | eBay design, eBay store design, eBay shop design, eBay template design, eBay listing design (ver:froo_no_js)
This listing is currently undergoing maintenance, we apologise for any inconvenience caused.