Free Shopify Web-Shop Full Trial!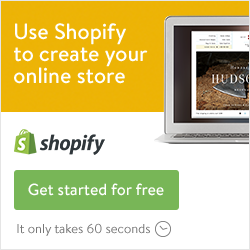 The builders of our web shop is Shopify.com and ourselves.  Shopify is the best period!  You can grab your totally free, no credit card 14 day trial with full e-commerce services so you can really sink your teeth into the platform before paying anything.
Also, you can check out the dozens of free tools they offer for everything from logo's to slogans to creating FAQ pages to videos to biz cards to collections to importing products and the list goes on.  Watch our YouTube series showcasing the tools in action if you want but grab your trial.   If you like it, pay only $9 per month for a full services web shop on Facebook, essentially a Facebook Store!  If you want an unlimited products web store with full drop shipping products configured in just one click from Oberlo (also a Shopify company) then you need only pay $29.00 Per Month, that's it and you are an official full service ecommerce web store with all the bells and whistles built right into it!  You just choose the products, choose the theme, no hidden costs, contracts and almost 1,200 FREE APPS that run everything from pop up banners to social media multi sharing with one click!
Good Luck and the link is below!